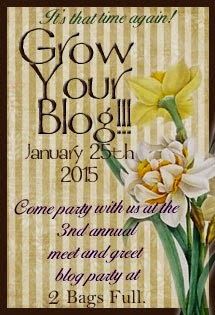 Welcome to the Grow Your Blog Party hosted by Vicki of 2 Bags Full. Check out Vicki's blog for the listing of this year's bloggers.
2BagsFull
Have fun with the blog hop!
And thank you for stopping by my blog.
My name is Debbie. I live on the West Coast of BC. Married to DH, now 25 years together. We have one adult daughter and two grandsons.
I love stitching, knitting and crochet. I'm sure I have many lifetimes of projects yet to be done! There is something special about items made by hand. One can never have too much stash be it patterns, fabric or wool!
Add to this a passion for cooking and baking. All things fresh. I've also rediscovered making bread.
Once the weather improves I'll be busy in the garden. This will be my first year post retirement and the plans that I have will more than fill my patio space.
We travel as time permits, usually every 2nd year or so. In a heart beat, my favorite place is Venice Italy. To me, it's like stepping back in time. Perhaps a slower pace ,,,, the colors, the water, the food.
From this tiny balcony (white building), it was our vantage point to watch ...... take pictures, drink a glass of wine and dream............
I leave you with these, sunflowers to brighten your day!
and this
Thanks for visiting!
p.s. I will be putting together a small giveaway.